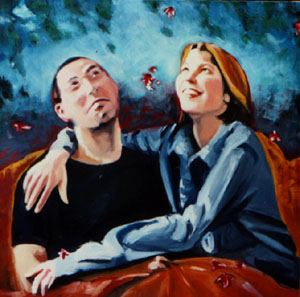 Click to see larger image

Wedding Portrait of Nimbus & Erica Couzin
Oil, 36"x36"
Painted in San Francisco, 2000
Currently in private collection, West Lafayette, Indiana.
This portrait was painted as a wedding gift for my brother and his wife this May. I experimented with a more abstract style and even used some acrylic. In fact, I actually mixed oil and acrylic paints on the pallette for some of the background (something to really horrify the purists out there).